For the last couple of months I've used a Lenovo ThinkPad P50 as my primary working computer. The P50 is a mobile workstation, which is another way of saying that it's a big, powerful laptop.
The P50 was sent to me by Lenovo through one of their influencer programs. My desktop computer was showing its age, and with only 16GB of memory was starting to limit what I could do with it, so I was quite happy to take a replacement and give them feedback on how the P50 works for someone like me. You see, I spend most of my days writing articles for my websites, books, and producing video training for Pluralsight. This means that I am running a few different virtualized test/demo environments at any given point in time. For example, over the last couple of months I've been using:
Before the P50 arrived I was having a lot of trouble juggling all of those environments between my desktop and the one remaining server running in my garage. I didn't really want to buy another server, and the prospect of upgrading or replacing my desktop wasn't all that appealing either, since desktops are big, noisy (a real problem when I'm trying to produce videos with good quality audio), and not portable at all. To make matters worse, I'd been struck by a series of power outages earlier this year, which interrupted my work and on one occasion likely caused a hard drive to start failing.
So the P50 solved quite a few problems for me straight away. It takes up far less space on my desk, it's quieter (now it is, I'll get into that), I can take it with me if I need to do some work on the road, and as a laptop it basically has a built in UPS, or if I need it to run a bunch of VMs for a workshop or presentation.
As far as portability goes, it's a pretty heavy laptop. The specs sheet says 2.5kg. That isn't "throw it in a bag and carry it around for the day" weight, but it is portable enough that I can take it with me if we're going away for the weekend and I want to squeeze in a little writing or editing to meet a deadline.
Here's a comparison of the P50 and my Yoga 900. The Yoga 900 is the same size and weight as a 13″ Macbook Air.
Obviously all that power (and expansion space) does come at the cost of additional size and weight. For expandability, the P50 supports up to 64GB of memory, 2x SSD drives, and 1x SATA drive. The specs of the P50 hardware Lenovo sent me were a quad-core 2.8Ghz Xeon processor, 16GB memory, a 250GB M2 SSD, and a 1TB SATA drive.
Not bad, but since I was already feeling constrained by the 16GB of memory on my desktop, I decided to upgrade the memory to 32GB, and also add another SSD drive so I can store more virtual machines. The second SSD slot needed a little plastic bracket to hold the drive, because it didn't come with a spare one. I had to order from Lenovo for about $8, and it arrived within a few days.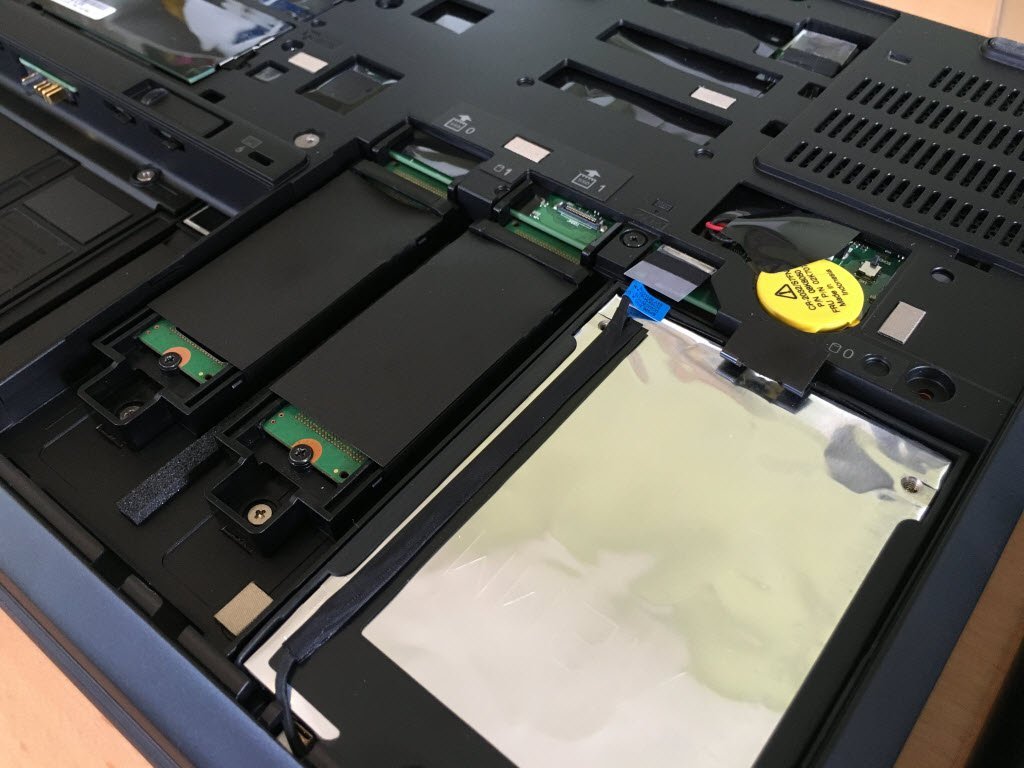 To get the P50 set up on my desk with my dual monitors I needed to add a few dongles and adapters. You can probably get a docking station for it, if that's more your thing, but I already had all the bits I needed so I didn't feel like buying anything else. Basically I'm running one monitor off HDMI, and the other off the mini-DP port in the right-hand side (in the pic below, I'm still connecting one screen to USB-C instead, but I changed shortly after setting it up).
It took me about a day to reinstall all my apps and migrate all my data across, and then I started using the P50 as my primary machine. In the last two months I've used it to write a lot of articles, two books, and create one Pluralsight course. The P50 has handled all of that with ease. For example, here's a VM environment I was running for one of the projects, all on the P50.
Having the laptop sitting off to the side of my desk is kind of a waste of a great keyboard and touchpad, plus the convenient fingerprint reader for unlocking or logging on to Windows 10. It's a shame, because the times when I've taken it with me to work remotely have been really comfortable and productive. It's just that I happen to have a Varidesk sitting on my desk so that I can alternate between sitting and standing during the day, and an open laptop doesn't really fit in with that. If I replace my desk with a full size adjustable sit/stand desk one day I might reconsider and use the P50 keyboard primarily.
I went through a few teething issues with the P50 as well:
HDMI output stopped working all of a sudden one day. After an hour or so of investigation I discovered that a BIOS update was available. That fixed it immediately, and it's been fine ever since.
A USB-C video adapter I was using stopped working. I suspect that was actually the adapter, as the USB-C port still works fine.
The display kept going to sleep after 1 minute of inactivity. This seems to have been a Windows 10 quirk. This solution fixed it.
The fans in the P50 were very noisy at first, seemingly for no reason at all. However, after I installed Lenovo's Power Management driver that problem went away, and the P50 remains quiet most of the time now (until I do something processor intensive like render a video).
So after two months, how do I feel about the Lenovo ThinkPad P50?
As a primary computer, it's perfect for me, fitting all the power that I need into way less space than a desktop. My entire household has been shifting to being a laptop and tablet family (something I am going to write more about in future), and my office computer was the last desktop still running. I am considering bumping the memory up to 64GB for even more VM capacity. I might buy another desktop-class machine to replace my garage server one day, but I can't see putting another desktop computer on my office desk for the foreseeable future.
As a mobile computer, I prefer my smaller and lighter Yoga 900. It's just so much easier to carry with me on the days when I go to a meeting, or when I'm working at a cafe or library. My Yoga 900 has 16GB of memory, so I can still fire up some VMs if I need to test something while I'm away from home. And if I'm just working at the kitchen bench or on the couch, the Yoga 900 is the obvious choice. But the Yoga 900 keyboard isn't as good as the P50. I can't type as fast or as accurately with it, but not so badly that I'm willing to sit with a P50 on my lap for an extended period. If I was going for the perfect combination of mobility and keyboard, I'd look at the X series ThinkPads, like the X1 Carbon, but they also top out at 16GB of memory capacity. For me that's a bit limiting, but for a lot of people the 16GB would be fine.
So for now, the P50 is a great work computer for me.
Thanks to Lenovo Australia for supplying the P50 hardware.